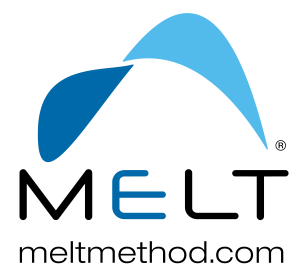 February 2013
Learn simple self-care techniques that you can use every day to make your body feel better and
function more efficiently. Relieve aches and pains brought on by aging and active living. Reduce
inflammation, ease chronic neck and low back strain, improve alignment, and learn how to
keep your whole body working better.
MELT uses soft foam rollers and small MELT Hand and Foot Balls to rehydrate the connective tissue
throughout your body and make your musc
les and joints more functional!
The MELT Method® is an innovative science-based self-treatment program that's being taught in
some of the country's most prestigious health & fitness centers, Yoga & Pilates studios.
Come experience this revolutionary technique to live a pain-free life & slow down the aging process. MELT is truly for everyone!

MELT Anti-Aging Facelift Sequence
If you have just a few minutes a day, the MELT Anti-Aging 50 Second & 5 minute Facelift can
tone your skin and neckline and give you a facelift. You will learn other easy self-treatment techniques for
reducing common aging issues including aches and pains, cellulite, stiffness, and difficulty sleeping.
MELT Intro Workshop:
MELT Intro Classes for 2019 will be private sessions only. Individual private sessions are $110. for 85 mins. Group sessions are $85.00 per participant. To travel to your home/office for private sessions are $120. for 85 mins. Group sessions to travel to your home/office are $95.00 per participant.
*Please
wear comfortable clothing and bring a bottle of water. MELT balls & rollers provided for class and for purchase.